About Dalyan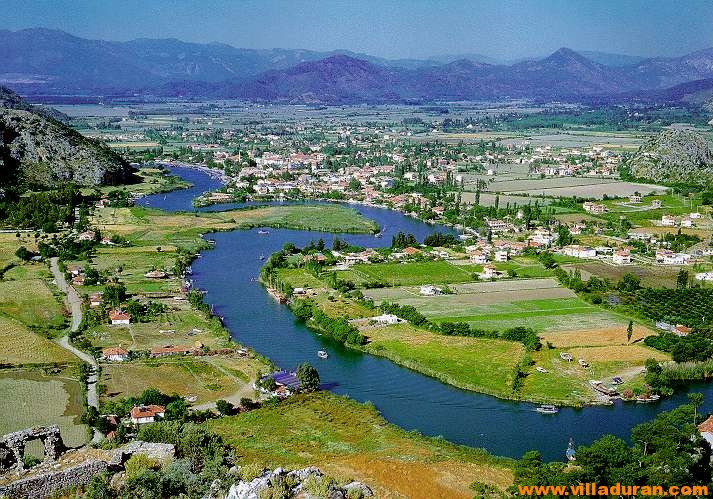 The small town of Dalyan in the Province of Mugla on the south- western coast of the Mediterranean is 30 km from the International airport of Dalaman, only a 30-minute away. Set in the centre of a broad delta whose natural beauty remains unspoilt. Dalyan is established in an environmentally protected area.
This is one of the few surviving places of paradise, an area of natural beauty and historical interest. The ancient city of Kaunos lies here with its ruins dating back to the 3rd Century. The Dalyan channel through which water circulates between the Mediterranean and Köycegiz Lake winds its way down past the ancient Rock Tombs to the sea, via a small network of lakes and waterways. Through the rustling reed beds rising between 3 and 5 metres in height.
With its mixture of fresh and salt water, these wetlands are now home to a vast number of fish and other water life, as well as the birds of many species which feed on them, species such as the Sparrow hawk, Crane, Kingfisher and Jay. The Stork is also native to this area migrating here at the end of March to nest until the end of August. Dividing the delta is the Iztuzu sandbar stretching for 5 km east from the south of the channel. With fine crystal sand, shallow turquoise sea Iztuzu beach is the ideal seaside spot. Which regular Dolmus or boat service can reach from Dalyan. This is also the beach where the endangered Loggerhead Turtle (Caretta Caretta) and the green turtle (Chelonia Mydas) have returned to lay their eggs since the beginning of time. The nesting time being from May until October.
12 island Tour
No other boat trip in Turkey can match the beauty of the Göcek 12-islands. In Göcek you will board the comfortable gulet. The coastline is of mountains plunging into the depths of the sea and of small, golden sandy bays. The sea is crystal clear to extreme depths. Vertigo sufferers beware! Any one view has a thousand shades of blue intermingled with sea greens and the sparkling, dazzling reflection of the sun in the rippling waves. You will stop off numerous times for dips in the sea, strolls along the sand, paddling in Cleopatra's pool and for an amazing onboard lunch. If people have been to Dalyan six years then they have been on the Göcek 12 island trip six times. Do not miss this trip!