Mud Bath
Up river you can visit the mud baths or hot springs reputed to be good for skin and general health. You can also rent a boat and spend the day cruising around the lake.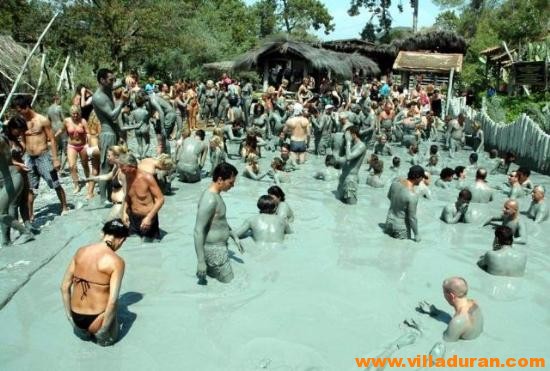 The Sultaniye Thermal Baths
The most famous place in Dalyan is the mud baths. These can be visited by boat from the harbour. Further up the river is Sultaniye hot springs where you can bath in naturally hot spring water, then the 12 km long Köycegiz Lake and the town of Köycegiz itself. The Sultaniye Thermal Baths are to the Southwest of Köycegiz Lake. The water here at 40 Celsius is second to none. The water at these baths was first used in Caunon times, and then by the Byzantines, who rebuilt the accommodations. The ruins of the buildings from the period are submerged beneath the waters of the lake. It is not unusual to see the Turkish elderly make pilgrimages to the baths due to the water's curative properties in case of neuralgia, rheumatism and skin disorders of the liver, spleen and bowels. The Mud Baths: "Beauty Mud" which not only cleanses and tones the skin but also is said to remedy rheumatism and has anti-ageing properties. After allowing the mud to dry, it can be removed in a natural clear water sulphur pool, at temperatures of around 40 Celsius. This leaves you refreshed and relaxed. And ten years younger!